The magnetic track lighting system is an innovative solution for contemporary spaces, allowing for vertical and horizontal designs on walls and ceilings, so your creative DIY lighting ideas came up. At the same time, its quick installation method and minimal decorative effect make it the first choice for home lighting and office lighting. Today we are mainly introducing this system, You will know clearly how to buy and why magnetic track light price has a big difference from a different manufacturer. You can read here if you only would like to know about traditional track lights.
What is Magnetic Track Lighting, and how does it work?
The magnetic track light is a kind of light fixture installed on the track by the magnet on the light fixture. The track is composed of an aluminum shell, copper conductor, and iron sheet. When the luminaire with magnet is close to the iron sheet in the track, the luminaire will be adsorbed on the trail without any tools, and at the same time the luminaire is in contact with the copper conductor, then powered by an AC110-220V to DC48V transformer for the whole track lighting system.
On the magnetic linear track, different forms of magnetic attraction lamps can be installed. Not only can they move freely on the track like traditional LED track lights, but they can also be disassembled and installed at will. Through different parts, the magnetic tracks can be connected to each other to form an L shape, square shape, U shape, etc.
Magnetic track light system size
There are some different sizes for magnetic track lights, are decided by the width of magnetic track channels, mainly including 15mm width, 20mm width, and 35mm width. Choose the width of the track according to the installation height. The 20mm type is the most popular in the markets for residential lighting such as living rooms, bedrooms, and dining rooms, or commercial lighting for shopping lighting, office lights, etc.
Where are the magnetic LED lights used?
These LED magnetic lights are mainly as home lighting for the kitchen, dining room, living room, and bedroom, it is available to design different pattern, which will make your home lighting system stylish, and modern. of course, it is also okay to be used for office lighting together with LED panel lights, or as commercial lighting in supermarkets, etc.
What are the components of the magnetic track lighting system?
The entire magnetic lighting system like traditional track lighting consists of 3 parts – magnetic rails, magnetic lighting fixtures, and accessories. Each part has something to pay special attention to. Let's go over the main points of each part in detail.
Magnetic Track
In terms of size, the magnetic track is mainly divided into two types: 20mm width (M20) and 35mm width (M35). The width of these two track strips determines the width of the corresponding magnetic lamp track head. That is, a 20mm wide track can only be installed with lamps with a 20mm width track head, and 35mm is also the same. Of course, recently there has been another slim type track, only with 15mm available in markets.
From the installation way, the magnetic rails include a recessed magnetic track, suspended magnet track, and surface-mounted magnetic rails.
Types of Magnetic Track Lights
The main magnetic lamps on the market include grille spotlights, linear floodlights, adjustable folding spotlights, track spotlights, and pendant lights. Each luminaire is a modular design that can be added, removed, and moved on the track at will. Now we are listing their feature as follows:
| | | | | |
| --- | --- | --- | --- | --- |
| Name | Dimension | Wattages | Beam angle | Application |
| Magnetic grille spotlights | 100mm,200mm 300mm,400mm | 6W 12W 18W 24W 30W | 24° | Accent lighting |
| Magnetic fold spotlights | 110mm, 220mm | 6W 12W | 24° | Accent lighting |
| Magnetic linear profile lights | 300mm, 600mm, 900mm | 10W 20W 30W | 120° | General lighting |
| Magnetic Track spotlight | D50mm, D60mm | 10W 15W 20W | 24° | Accent lighting |
| Magnetic pendant lights | D30mm*H300mm | 5W | 24° | Accent lighting |
The other luminaries like magnetic ball lights and cylinder lights can be customized
Accessories
Magnetic track lighting system including power input cable, built-in driver, or external power supplies, L shape connector, and adapters(horizontal and vertical connector). You can download this PDF file to learn details about these accessories.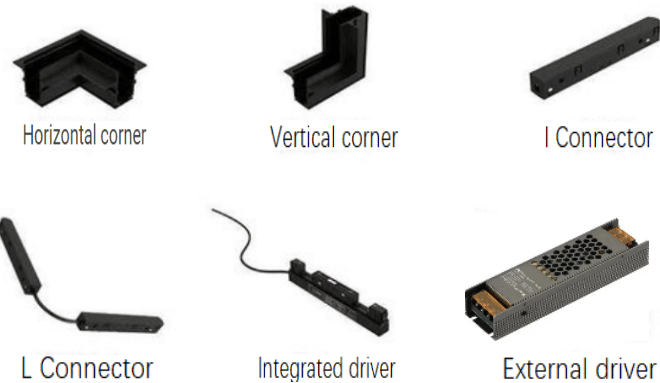 How to Choose Magnetic Track Lighting?
The best magnetic track lighting system should be easy to install, compatible with most light fixtures on the market, and should use the same accessories as other standard track lighting systems.
There are including above many different parts for the whole magnetic track lighting system, so are you worried about not knowing how to choose these? Now share the following buying guide:
Step 1: Confirm what design pattern for the whole system you prefer.
There are about 4 design shapes for the whole lighting system- L shape, I Shape, parallel lines Shape, and Square shape.
Square shape. It is suitable for living rooms, and offices.
U Shape: Mainly used for living room.
L Shape: Good for use in corridors, living rooms, and cloakrooms.
I Shape: For the living room, dining room, and kitchen room.
Step 2. Choosing a suitable magnetic track rail.
As above description. There are 4 different magnetic track types.
Recessed magnetic track: It is suitable for new houses that have not yet suspended ceilings. It is necessary to make grooves and pre-embed tracks, and then press them with the ceiling.

Trimless magnetic rail: It is used in the room where the ceiling has been made, and the hole is directly fixed on the ceiling plasterboard.

Surface / Pendant magnet track: Mainly used for

places that are without false ceilings or not good for making plasterboard such as supermarkets, offices,

etc.
Note: If you choose to use the embedded magnetic track, you need to reserve 5-7cm of space when the ceiling is suspended. We can provide the 4-in-1 magnetic track ( integrated with the surface, recessed, trimless, pendant installation)
Step 3. Choosing magnetic LED lights.
DATASHEET
| | | | | | |
| --- | --- | --- | --- | --- | --- |
| Model | GR-MLL-6WGS | GR-MLL-12WGS | GR-MLL-18WGS | GR-MLL-24WGS | GR-MLL-30WGS |
| Wattage | 6Watt | 12Watt | 18Watt | 24Watt | 30Watt |
| Dimension(mm) | 112*22*45 | 220*22*45 | 328*22*45 | 435*22*45 | 543*22*45mm |
Remark: Philips/Osram SMD Chips, DC48V Input voltage or 220VAC 110VAC Input, 24° Beam angle, CRI80, 90lm/W output, SDCM<5, 50000Hrs lifetime. PWM /0-10V/DALI Dimmable/ Tuya intelligent ZigBee was available.
Step 4. Choosing the accessories
After you confirm the design shape for the whole magnet track system, you will know which adapter or connectors you request as follows:

Step 5. Choosing magnetic driver
There are two solutions for the whole system for driver choices.
48V Built-in driver. It is good for integration

with all magnet tracks, especially for suspension or surface-mounted tracks. Available 100W 200W in power.
External driver. Mainly working for recessed installation. The external driver is much better than a built-in driver in quality. Meanwell power supply 100W 200W 350W is available. The external power supply is suitable for placing the air outlet of the air conditioner or the exclusive maintenance port, which is convenient for future maintenance, repair, or replacement.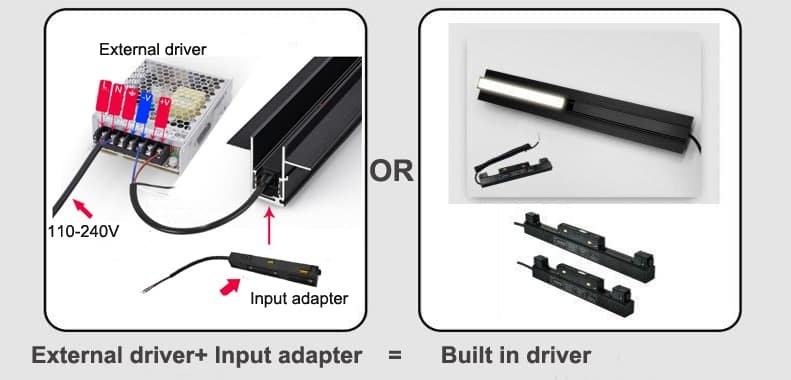 FAQ about Magnetic Track Lights
What are the benefits of having these in your home?
The biggest benefit of magnetic track lighting is its safety. Since they don't require tools during installation, the risk of electrical fires and other hazards that come with hooking up track lighting is eliminated.
Another benefit of magnetic lighting is that you can add many lamps to the track. Magnetic tracks don't have a predetermined number of bulb sockets, so you can add as many lighting fixtures as you want.
How difficult is it to install them?
Installing magnetic track lighting is easy. You can install it by yourself, and there's no wiring involved. Simply mount the track to your ceiling, attach the lights to their channel, mount the metal brackets through powerful magnets, aim them where you want them, plug them in, and turn them on!
4 different installation solutions for magnetic track light system
You can download the following PDF file for each installation guide.
Are your tracks compatible with other light fixtures or just the ones your company makes?
Yes, Our magnetic tracks are working with light fixtures from other suppliers. Our magnetic tracks include 20mm and 35mm width types. The 20mm track only works with a 20mm width magnetic track light fixture, and the 35mm magnetic track only works with 35mm lights.
How far does the magnetic linear track need to be away from the wall?
Generally, we advise being away from the wall by about 40-60cm. Of course, you can do it according to the actual size of your house.
Can the magnetic LED lights be dimmed?
Yes, it can. We have 0-10V dimmable, DALI Dimmable types, and smart dimmable magnetic track lights(WIFI, Bluetooth mesh, and Zigbee version) available. The smart dimmable type 3CCT Color changing+ Dim brightness includes WIFI 2.4G, Bluetooth Mesh, and ZIGBEE which all work with the TUYA APP, remote control, and a smart switch on/off by a smart hub (gateway).
Are there any disadvantages to using this type of lighting fixture?
One disadvantage of using magnetic track lighting is that it is expensive. Because of the materials used, it is over three times more costly to purchase magnetic track lighting when compared to other types.
Do they come in different colors?
You can find magnetic track lighting in various colors, including 3000K warm white, 4000K-4500K daylight, and 6000-6500K cool white. These color temperatures will have different effects on residential rooms, Regarding the choice of color temperature, you can read here to know more.
What's more, there are also different colors for magnetic rail tracks, the main one is black, but the white magnetic track is also available. These two tracks' colors will give a different performance in lighting decoration.
Is there any safety advice I should know about?
To avoid damage to the track and its surrounding area, never apply any downward pressure to the way. Doing so could cause it to separate from the ceiling and wreck both your property and your lighting system.
What is the magnetic track lighting price?
Different widths of luminaire fixtures will be different prices, the 20mm width will be cheaper than the 35mm width types. Each part will be following in price for reference:
| | | | | | | |
| --- | --- | --- | --- | --- | --- | --- |
| Name | Magnetic track | Magnetic linear floodlights | Magnetic track spotlights | Magnetic fold spotlights | Magnetic pendant lights | Magnetic grille spotlight |
| Unit price | 2.8USD-6.8USD/meter | $1.98-$7.98usd/pcs (10W-30W) | $4.98-$9.98/pcs (10W-25W) | $4.98-11.98/pcs (6W 12W 18W) | $7.98/pcs | $1.98-7.98/pcs (6W 12W 18W 24W 30W) |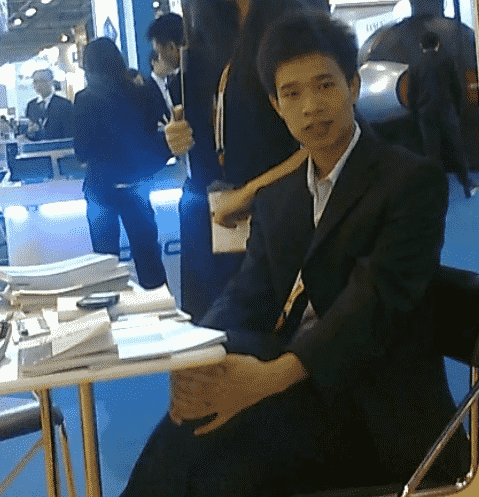 Hello, customers
My name is Ricky Wang, I'm the business manager of GRNLED. I have been in LED lights industry for more than 10 year. Feel free to contact us. I'm happy to provide you the best service and products.
Email: info@grnled.com | WeChat: ledfixture