Top Quality LED Panel Light Manufacturer
GRNLED is the best led panel light factory, manufacturer and supplier, CE RoHS approval for 8years in china. Factory passes ISO9001:2015 quality management system.
We have spent a lot of energy on the production and research and development of panel lights: complete product categories (edge-lit and back-lit panel light, various sizes (small panel lights such as 300x300mm, hot-selling size 600*600mm and 1200x300mm, large panel light such as 1200x600mm). Flexible installation methods (embedded installation, suspension installation, ceiling surface-mounted installation, buckle clip installation). Multiple product functions are optional (PWM / 0-10V / DALI dimmable, Emergency backup). Under the premise of high quality, all price is very competitive. We accept both OEM, ODM, and SKD orders.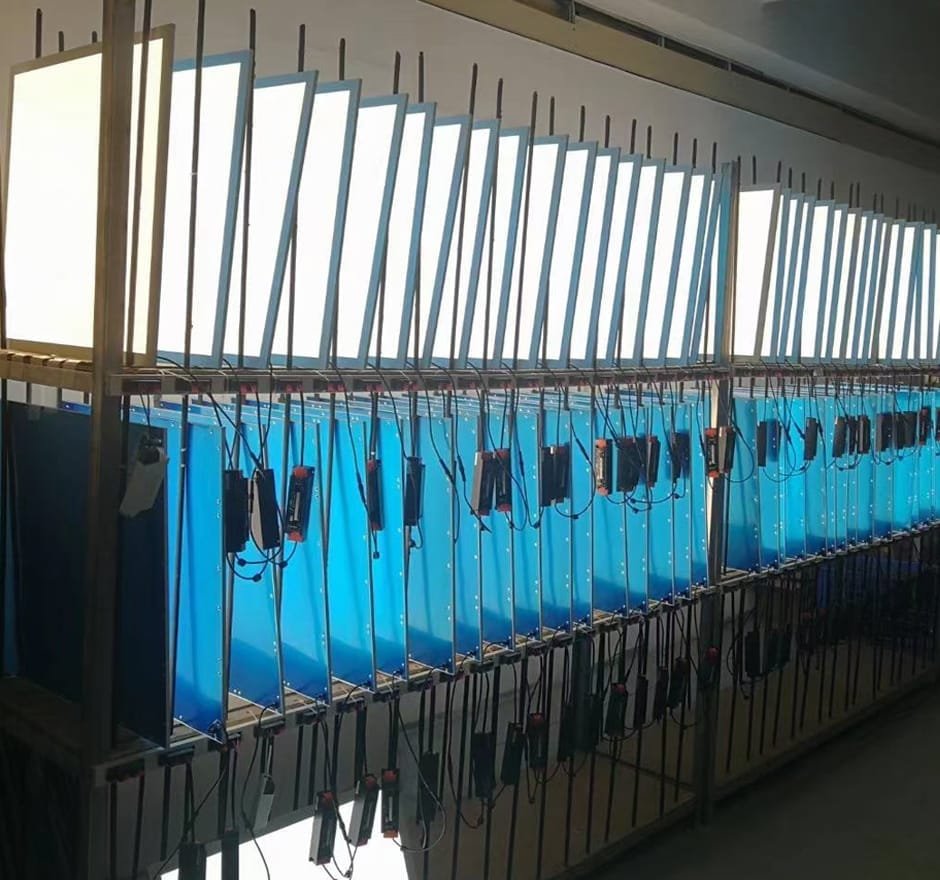 BEST FLAT LED PANEL LIGHT IN CHINA
Back-lit Panel LED light and Edge-lit ultra slim led panel light options.

High lumens 100lm-120lm/W output.

300*300mm, 600*300mm(2ft*1ft), 600*600mm(2ft*2ft), 1200*300mm, 1200*600mm(2ft*4ft).

Recessed, suspended installation, surface mounted installation options
CUSTOMIZED SERVICE
Triac dimmable/0-10V/DALI Dimmable and Emergency backup kits.
Color changing 3CCT or two colors changing
Waterproof IP65 panel light
1200*200mm, 1200*150mm, 1200*1000mm can be customized.
2.4G remote controller
Edgelit LED Panel Light Manufacturer
As the best china edgelit led panel light manufacturer, factory,supplier since 2014, We have mature production technology and stable raw material suppliers. Our use of anti-UV yellowing silk-printed light guide plate and PMMA laser light guide plate can well avoid the main quality problem of side-emitting panel lights on the market – yellow changing, and at the same time, with high-quality constant current drive, to ensure that our side The life of the luminous panel light is 50000Hrs. Our panel light has obtained CE RoHS quality certification and meets most of the engineering requirements.
Backlit LED Panel Light Manufacturer
We are a professional backlit flat led ceiling panel light manufacturer, supplier, and factory, having rich experiences in production, exporting. The Backlit led light panel is the main trend in markets for the cost. It is much cheaper than edge-lit panel lights, thanks to the lack of LGP. In this case, The biggest advantage of the backlight panel light is that the lamp will not turn yellow, and the price is low. The backlit panel light mainly consists of frame, iron bottom, PS diffuser plates, and Aluminum strip(PCB) and lens. The light source (led chips) is posted on the bottom instead of the edge sides. Our back lit panel lights can be 100-120lm/W outputs, CE RoHS approval, 2/3/5years warranty options. Recessed, Surface mounted, suspended installation available by different accessories.
China LED Panel Lights manufacturer,factory and supplier
We can provide IES Files to do Dialux for commercial projects
LED PANEL LIGHT DETAILS
LED panel lights are mainly divided into two types, slim side-emitting, and back-emitting, and their components are different. The structure is as follows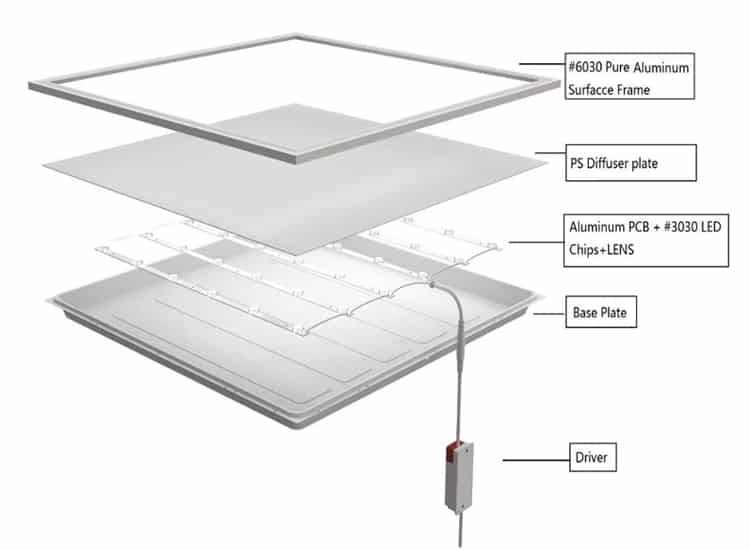 | | | | |
| --- | --- | --- | --- |
| Model | Dimension(mm) | Optional dimension(mm) | Shape & category |
| GR-PL3030 | 295*295 (1ft*1ft) | 300*300 | small square panel |
| GR-PL6030 | 595*295 (2ft*1ft) | 600*300 | Rectangle |
| GR-PL6060 | 595*595 (2ft*2ft) | 600*600, 603*603, 620*620 | Standard square |
| GR-PL12030 | 1195*295 (4ft*2ft) | 1200*300 | Long light panel |
| GR-PL12015 | 1195*145 (4ft*0.5ft) | 1200*150 | Long ceiling |
| GR-PL12060 | 1195*595 (4ft*2ft) | 1200*600 | Large panel light |
The other dimension such as 600*150mm, 1200*200mm, 1200*1000mm, 1200*1200mm, 1200*800mm can be customized
| | |
| --- | --- |
| Materials | Aluminum frame, white/silver/black finished+ Anti-UV LGP without any yellowing issues |
| Input voltage | 110V-220VAC 50/60Hz as standard, but the low voltage like DC12V 24V 36V 48V 60V is available |
| LED Chips | Epistar/Bridgelux/Philips/OSRAM/Samsung SMD LED Chips |
| Lumens output | 90-100lm/W, 100-120lm/W, 120-140lm/W solution optoins |
| CRI(RA) | >80, or >90 |
| SDCM | <5 or <3 |
| Power factor | >0.9 |
| Color temperature | 2700-3000K warm white, 4000-4500K daylight, 5000-5500k natural white, 6000-6500k cold white |
| THD | <20% as standard, but <15% or <10% available |
| Surge protection | 1KV-2KV, 4KV available |
| Working life | >50000Hrs. lifetime up to 10years |
| Working temperature | -25℃/+55℃ |
| Storage temperature | -30℃/+60℃ |
| Manufacturer warranty | 2/3/5/7/10Years options |
Totally 4 different installation ways for led ceiling panel light as follows: (You can check the step drawing or download the guide PDF file)

Used for home lighting, commercial lighting like offices and hotel, and industrial lighting
Offices

Supermarkets

Hospitals

Subway Stations

Classrooms

Shopping Malls

Kitchen

Bathroom

Meeting rooms

Exhibition hall

Hotels

Restaurant

gymnasium
Frequently Asked Questions